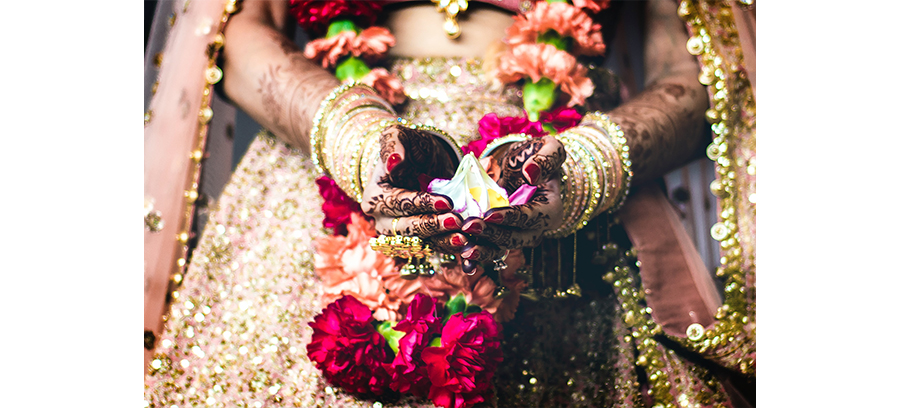 Once you find the perfect bridal outfit to cement your wedding vows in, your wedding shopping is still far from complete! There's still one important item to pack with the most fashionable looks of the season: your wedding trousseau. A wedding trousseau is a vanity case or luggage that carries all of the bride's most prized possessions. It contains everything a woman needs to start a new, exciting life with her new partner. Trousseau packing can be extremely nerve-racking. But it's important to keep it simple and practical because hoarding will only make the packing process more difficult. So keep the following points in mind when you start your wedding trousseau packing.
1. Organize
A month prior to the wedding, start by allotting a different place for each category of your wedding trousseau. It doesn't have to be neatly folded or arranged. To be able to do your trousseau packing, you need to know where each of your belongings is and this just makes it so much easier when it's actually time to pack. Divide your wardrobe into sections of sarees, salwars, formal wear, casual wear, lingerie and swimwear, jewelry, accessories, and toiletries. When you know where each item is, your wedding trousseau packing will be a breeze. 
2. Go easy on the shopping
We know that when you're a bride, there's no such thing as too much shopping. But you don't want to spend all your money on fancy heavy work sarees and anarkalis that would not only take up too much space in your bridal trousseau but would also be worn far less than you think. Instead, you should allocate most of your trousseau packing budget to everyday wardrobe-essentials like kurtis, simple t-shirts, cotton sarees, and only a few heavy ethnic outfits. This will help you put together a sensible and affordable wedding trousseau that will actually come in useful. 
3. Make a checklist
Behind every successful packing is a checklist and it isn't any different with your wedding trousseau packing. We cannot stress this enough. Make a checklist and pen down every little thing that you wish to carry to your new home. Keep it handy so you can add or remove any item at any given time. This checklist will save your life (and your peace of mind) when it's time to sit down and pack your life into a suitcase.
4. Execute
Now that you've sorted the components of your bridal trousseau and made a checklist, it's time to start packing. Here is a broad list of items you'll need to pack.
Sarees
If you're the type who can really pull off a saree, pack up to 6 or 7 sarees. Otherwise, keep it under 5. Here are some saree types for you to pick and choose from-
Kanchipuram sarees
Banarasi sarees
Chiffon sarees
Chanderi sarees
This floral chiffon saree available on Myntra is the perfect outfit to wear for lunch with the in-laws.
Salwars/Anarkalis/Kurtas
This one goes without saying. Not only are they comfortable, but they're also the perfect outfit for those post-wedding rituals and dinners and get-togethers. Pack at least 6-7 of these as part of your trousseau packing and make sure you don't repeat colours so they don't look alike!
This cotton silk zari kurti available on Fabindia is perfect for any post-wedding get-togethers you have planned. 
Casual wear
All your jeans, crop tops, tank tops, T-shirts, dresses, and basically everything that you throw on for casual outings. In most cases, this is where you hoard, trying to carry that one top that you've had for years because it still looks good on you. Try to keep it simple and fresh and understand that only your best clothes can make it to your new home. 
This casual floral fit and flare dress by Dorothy Perkins available on Myntra is perfect for brunch with the girls when you're recovering from your wedding festivities. 
Formal wear
If you're back to work in a couple of weeks, these outfits would be of prime importance. Pack at least 7-10 tops and blouses and up to 4 pants or trousers. Blazers take up space so pack a maximum number of three in your trousseau packing list! 
These formal slim-fit pants by Marks & Spencer's available on Amazon will help you return to work in style. 
Lingerie/beachwear/gym wear
This one is obvious, but it still has to be a part of the list. Along with the fancy honeymoon lingerie, don't forget to pack up your everyday, comfortable bras and underpants. If you're headed for a beach destination for your honeymoon, pack up bikinis and sarongs and cute beach shorts. 
Accessories and miscellaneous  
All your nightwear, makeup, body care, hair care, belts, sunglasses, jewelry, hair ties and clips, pins, and all other loose items would come under this category. We suggest you make another checklist to elaborate on the contents of these categories so it's easy to pack at the last hour. 
Footwear
Last but most important, shoes! There's a whole fairytale about a princess and her shoes! Pack the type of shoes that can be used for multiple occasions and purposes. Here are some options:
Pumps
Wedges
Ballerinas
Slides
Gladiators
Boots
Jhuttis
Flats
Peep toes
The trick to staying calm during your wedding season is to be organized and stick to the plan, no matter what. Know that at the end of the day, it's all going to fall right into place. So spend time with your family, pack your wedding trousseau with your friends, create great memories, and have a greater wedding and married life! If you're putting together the perfect bridal trousseau but have spent most of your budget on wedding shopping, don't sweat it! With ZestMoney, you can now use no-cost EMI to buy the most stylish outfits for your trousseau. Simply sign up for ZestMoney credit and use it across fashion websites like Myntra, Fabindia, Amazon, Lifestyle, and more fashion partners! Weddings can be stressful, but with Zest, wedding trousseau packing doesn't have to be.
You may also be interested in :