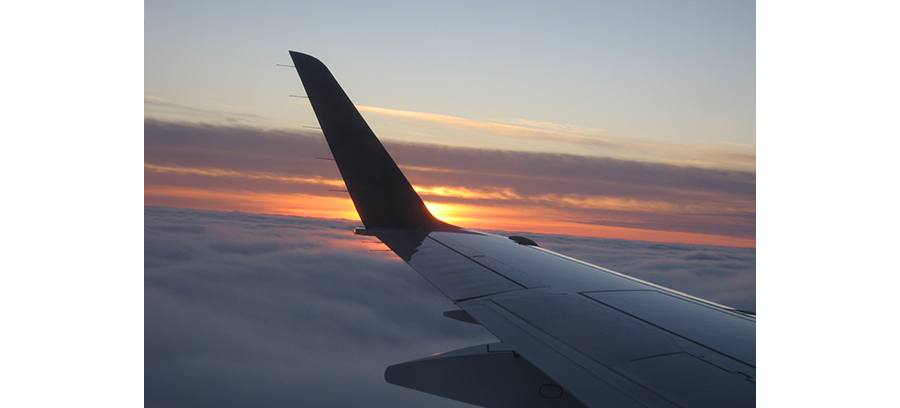 With the advent of globalisation and the world getting smaller, travel is fast becoming a favourite hobby for many people. Travelling can expose you to new horizons and life-changing experiences. Let's be honest though, travelling can be very expensive. When you are booking a trip, the cost of the flight tickets will usually account for a major chunk of the total cost. Cheap air tickets in India can be hard to come by, but not impossible. 
If you've been looking for budget flights and budget international trips, these tips can help you find some great destinations without eating your wallet:
1. Book in advance

It goes without saying that booking early is the best and most trusted way to get cheap air tickets in India, domestic as well as international. Generally, booking at least 30 days in advance guarantees you at least Rs. 1,000 in savings on domestic flights, and depending on your destination, around Rs. 10-15,000 on your international flights. If you can plan in advance, such as 6 months before your planned date of travel, all your trips can come out much cheaper than expected. 
2. Compare bookings

Before finalising on what seems like amazing airline tickets and cheap flights, make sure you compare the prices on each booking website. The good news is, you don't have to manually check prices on various websites yourself to find cheap flights around the world. There are a wide array of websites and apps available that can give you a list of side by side comparisons for cheap air tickets in India – make sure to always take advantage of them! Another tip to find budget flights is to compare prices on different days in the month so that you can pick the cheapest day and flight to travel. Travelling on weekends is a lot more expensive than weekdays, and certain days of the week where demand is low offer dirt cheap prices.
3. Find 'odd hour' flights
If your life revolves around travel to new places, odd hour flights can be your best friend. If you're a person who can be flexible about your dates and times, you can find budget flights that don't compromise on comfort. The cheapest flights are generally nestled between 1AM to 5AM- this includes budget international trips and cheap domestic airfare. It makes sense to pick these over others if you're a solo traveller or going with friends. 
4. Avail bank card offers
Before booking your tickets, always check if your bank card helps you avail discounts and coupon codes for airline tickets and cheap flights. Some banks offer a marginal discount on your flights and some others give you offers to particular destinations. If you're searching for cheap flights around the world, your international debit or credit card can help you get a 10-15% discount. Some cards provide you flying points that can be collected and redeemed for large discounts on your next flight booking. Many credit cards even give you access to lounges and special areas in international and domestic airports. 
5. Pay for tickets using EMI
Many times, even if you find cheap air flight tickets, you might not have the savings required to pay for it immediately. You might also need to keep a certain amount of savings in your account to pay for your holiday expenses, which makes it difficult to shell out a big amount for flight tickets. In this situation, paying for your tickets using no-cost EMI is the best option. This allows you to pay for your tickets in monthly installments, rather than at one go. ZestMoney no-cost EMI on flight tickets also offers zero down payment and zero interest. This way, you can also save more money on your flight bookings.Since there is no credit score required, 
6. Book round trip tickets

When booking flight tickets for your trip, you will usually be able to save a lot more money if you book a round trip than if you book the tickets separately. Many websites like Makemytrip and Yatra offer special discounts when you do this. Moreover, these websites also automatically find you the cheapest combination of flights for your onward and return tickets so you won't have to do it manually. You can also use EMI on Makemytrip and EMI on Yatra, so you can fund your purchase using your ZestMoney credit.
7. Book an all-inclusive package tour

If you are planning an international holiday, you might be able to save a significant amount of money by booking a package trip. Tour package companies usually have tie-ups with flight operators, which gives them access to special offers and budget flights. This means that you could potentially end up paying a lot less for flight tickets than if you were to book it independently. As an added bonus, you can also save money on transport and accomodation when you book a package holiday. Companies like Pickyourtrail allows you to customise your holiday itinerary and pay for it using ZestMoney no-cost EMI. This way, you can be assured of a tailor-made holiday at an affordable price, even if you are planning an international trip like a package trip to New Zealand or any other destination.
With these useful tips, a holiday is no longer an expensive luxury! Through ZestMoney's no-cost EMI plans, cheap flights around the world are within your reach. Sign up now to get your credit limit and book your next budget international trip!
You may also be interested in :