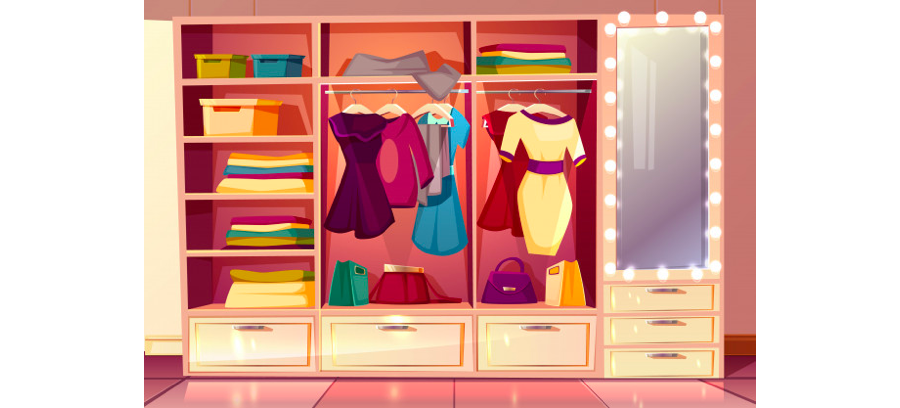 A woman's relationship with her wardrobe is a sacred one. Whether it's a scavenger hunt for the perfect dress for a date or finding the right outfit for a big job interview, your closet is the ultimate treasure chest. Sometimes, especially with a messy closet, scouring for a simple outfit can be a stressful task. Your closet might be brimming with clothes but it might not be enough to make the look you have in your mind come alive. The right women's wardrobe essentials for women can help you put together a stylish outfit with ease. There are some things that every kind of woman, be it a fashionista, a working professional, a student, a homemaker or a minimalist, needs to have in their closet for days when nothing seems to look right on you. 
With these wardrobe essentials for women, you can be happy knowing there is one look that will always work for you, no matter what the occasion:
1. A White Button-Down Shirt
Be it a summer party, an impromptu date or a work presentation, a white button-down shirt is one of the most versatile wardrobe staples. For a simple look, a white button shirt and a well-fitting pair of trousers or a skirt make for the perfect chic professional look. You can jazz it up with a scarf or a light jacket for a playful look for informal occasions, or maybe even a solid necklace that garners attention at a party. The great thing about a white shirt is that it is the perfect blank canvas upon which you can draw your unique style statement. Don't be afraid to experiment with everything a white shirt has to offer! 
This classic white button-down shirt by H&M available on Myntra will make the perfect sophisticated addition to any look.
2. Black Pants
An evergreen pair of black pants or black trousers is one of the top wardrobe essentials for women. Trousers are generally synonymous with a professional setting- and while it truly is an absolute wardrobe essential for work, it doesn't have to be boxed only in this category. Since leggings are usually frowned upon as a choice at the workplace and jeans don't make the cut for more special events, a pair of black pants are the perfect balance between the two. Finding pants that don't pill, are comfortable and can stretch with your movements can be tricky, but once the right pair comes along, a women's wardrobe is truly complete. 
This pair of formal black trousers by CODE available on Lifestyle will help you build the perfect power outfit and is a must have in every woman's wardrobe! 
3. Denim Jacket
For unpredictable weather, a denim jacket comes to the rescue and is, therefore,  essential for women's wardrobes. Think of September, when the morning mist brings in a little chill but the afternoon sun can really beat down on you- a denim jacket protects you from the heat as well as the cold. Moreover, a well-fitting jacket accentuates your outfit well. A floral dress turns into a chic ensemble, a turtleneck sweater embraces the jacket beautifully and if you're feeling really adventurous, denim on denim can be a showstopper when paired correctly.  
This rocker-chic denim jacket by XPOSE available on Amazon will help you layer any outfit beautifully and is one of our most favourite wardrobe staples for women.
4. Little Black Dress

The quintessential little black dress (LBD) is a classic wardrobe essential for women. The wonderful thing about little black dresses is that they are so versatile. Not everyone likes the same style; an off-shoulder won't have the same fans as an A-line dress, frills aren't everybody's cup of tea, and hem lengths change with the person's life trajectory. Turn to your LBD to make a statement at a gathering, dazzle your significant other at date night, or just throw one on to feel pretty on a dull day. 
This fit-and-flare black dress by Besiva available on Myntra will make heads turn at every party!
5. A Knee Length Skirt
A skirt works beautifully to accentuate feminine features on anyone, but its hemline separates a party skirt from an elegant one. A knee-length skirt, especially in neutral colours like grey, brown or black, is one of the top closet essentials for women. On cold days, pair your knee length with warm tights and ankle boots for a special autumn or winter look. This dynamic clothing item works in a formal setting as well as at a festive family gathering. Throw on a gorgeous scarf to decorate your neck with your skirt and shirt, and you've got a flawless outfit that never fails.
This dark blue knee-length skirt by Allen Solly available on Flipkart is just as appropriate for a weekend brunch as it is for a weekday meeting!
6. Dark Coloured Skinny Jeans
Dark colours are preferred for a reason: they are complementary to almost every colour on the palette. Good quality skinny jeans are never uncomfortable, remain super chic and can help you dress up or dress down your outfit as per your mood. Pair them with a knit sweater and boots for an evening out with the girls, a button-down shirt for a casual or formal meeting, a T-shirt and sneakers for a timeless spring look. The common factor here – dark wash skinny jeans, are a must-have apparel for women's wardrobe. 
These dark blue skinny jeans by Levis will never go out of style and are sure to be a wardrobe favourite for years to come. 
7. Your Signature Item
Lastly, a signature item that is of your own choosing and defines who you are is one of the most important wardrobe staples for women. If you're a fan of glitter- a bejewelled jacket or sequined pants can be the way to go. If you're into accessorising, long earrings, large finger rings or a boho necklace can be the item your friends relate with you. A large handbag or a small one to take wherever you go can also be a beautiful signature item. Have fun with this and don't limit yourself to what you can do with fashion! 
This stunning brocade clutch bag by Fabindia will add the right splash of colour to any outfit.
With these wardrobe essentials for women, you'll never have to utter the words, "I have nothing to wear!" ever again! Inspired to start your wardrobe reset but running short on finances? With ZestMoney, you can get access to no-cost EMI which can be used on some of the biggest fashion websites like Myntra, Lifestyle, Amazon and many more fashion brands. Sign up now and get your credit limit to start shopping!
You may also be interested in :