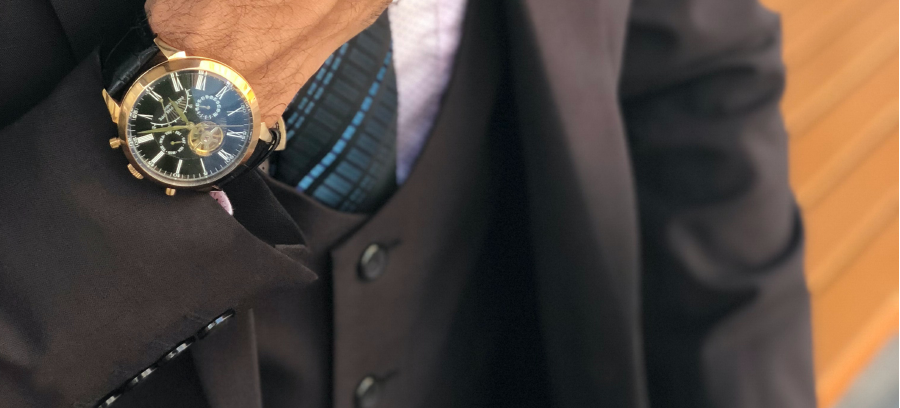 The ultimate image of a stylish modern man involves him wearing the best designer suit. Whether it's at a wedding or being a successful professional, a well-fitting suit is a statement that can't be replaced. King Charles II is generally credited with the introduction of the three-piece suit into fashion wear for men in the western world. Until then, men commonly wore combinations of a jacket and trousers, however, the concept of a suit as festive, or formal attire was relatively new. It is believed that this was done to promote the English wool trade and to take power away from French fashion. 
In theory, a suit is simply a pairing of trousers and a jacket over a shirt. It could be dressed up or down with additional pieces, but it is, in essence, an uncomplicated clothing ensemble. However, the best designer suits are a lot less common. It must be selected with care, and there are several aspects that go into making the best choice. Depending on how early in the process your confidence allows you to be involved, you must consider the suit fabric, the suit colour and the suit style that best meet your needs.
Factors to consider 
 1. Formality
Depending on what occasions you have to use your suit, the style and design of your suit will need to be more or less informal. If you are wanting a suit for a wedding or some other big event, you might need a suit style that is elevated and stylised like a grey 3 piece suit. While a double-breasted tuxedo might be great for a big formal event, a turtle neck suit would probably be better suited to a more casual or intimate like a dinner party. 
 2. Fabrics
Some of the best wedding suits for men are minimized by poor choices in suit fabric. A slim fit suit, for instance, would be significantly diminished by a thick fabric like tweed. Similarly, a double-breasted tuxedo requires a weighty fabric to balance out the satin. A stylish single-breasted suit offers some versatility with fabrics themselves, and whether you choose a lighter or heavier fabric, you will still find suit types that are among the best designer suits for men.
 3. Colours
The classic best designer suits are assumed to be black, however, your options are far from limited. A grey 3 piece suit is a timeless piece of fashion wear for men and any good slim fit suit in a dark colour will probably be a great choice. Suit colour is an often underestimated aspect in choosing the best designer suits.  You can often afford to be more adventurous than just black, not to mention all the various shades of black. At the same time, it is better to choose a suit colour that isn't too garish or distinctive so that it becomes more convenient to wear the suit repeatedly.
 4. Cut
The cuts you consider are a big way to narrow down your choice of suit types. The difference between a single-breasted suit and a double-breasted tuxedo may seem somewhat minor. However, it makes a huge impact on the sense of decorum that comes with the suit, and this needs to be suited to the person's body type and gait. 
 5. Fit
Picking a suit with the correct suit size is also an important factor to consider in choosing a good cut of suit. A turtleneck suit, for instance, can look stylish and fashion-forward, provided it fits well. On the other hand, even the best wedding suits for men can look shabby and unkempt if the suit size is incorrect. A well-fitting suit is key to the confidence you need to carry it off. 
Ways to buy suits
1. Bespoke
Bespoke suits are the most luxurious way to acquire the best designer suits. You choose the fabric, or fabrics, and your own customised design, typically to a suit maker or a tailor. The suit is custom made to fit your body and tastes. 
2. Made-to-measure
Made-to-measure suits are similarly made to fit your body exactly. However, the designs are pre-existing, and you simply provide your measurements so that they can be made to a perfect fit.

3. Ready-to-wear
As the name suggests, ready-to-wear suits are bought pre-made, from a showroom or store. It is common to buy a ready-to-wear suit and have it adjusted by a tailor. You save on a lot of time and effort, but ultimately the fit can never be quite so perfect. 
4. Suit Separates
As with ready to wear suits, suit separates allow you to buy the elements of a suit pre-made. However, with this, the elements of the suit are sold and bought as individual pieces rather than as an ensemble. This offers more flexibility to choose various elements that you like, and assemble them on your own, according to your own taste. 
Parts of a Suit
Though a suit is technically just the combination of trousers and jacket, for the best designer suits there are a few more elements that can, or must, come together for the full ensemble. 
 1. Jacket
Arguably, the jacket is the most important part of the suit. Very often, even if you are not wearing a suit, a good jacket can tie an outfit together in a way that makes it seem like one of the best designer suits currently in the market.
Best Designer suit for men :
   1. Raymond Polka Print Single Breasted Formal Men Full Sleeve Blazer
This statement piece from Raymond is a great choice of jacket that can be paired with a wide range of trousers and other accessories. It can be dressed up or down, and is a great way to create a unique look without sticking out obtrusively. 
Price: Rs. 11, 999 on Flipkart 
Sign up  with ZestMoney to make this single-breasted suit yours by simply paying Rs. 1,333/ month over 9 months.
    2. Trousers
Your trousers do not need to match your jacket, but it's important for them to be coordinated. Generally, straight pants are a safe bet as long as they are in a matching material and fit you well. You can also opt for tapered pants for a more casual look. 
Park Avenue Men's Formal Trousers
These formal trousers from Park Avenue are an easy choice that can become a staple in your wardrobe, which can serve you in formal events as well as business meetings and dinner parties. 
Price: Rs. 6, 999 on Flipkart 
Sign up  with ZestMoney to get these trousers by spending just Rs. 777/ month over 9 months.
     3. Vests
Vests are often left out of a suit ensemble, and are generally considered to be a more traditional and formal way to wear a suit. Vests can be quite formal, but can also be a fun way to add a touch of personality to your outfit

Blackberry's Polyester Men's Waistcoat.
This piece from Blackberry is a great example of a vest that can be worn on its own or under a jacket. The light blue is neutral enough not to clash with the rest of the suit, but still stand out with a personality of its own. 
Price: Rs. 5,169 on Myntra 
Sign up with ZestMoney and add this formal waistcoat to your wardrobe by paying 9 easy instalments of just Rs. 575.
     4.  Accessories

While many of the best designer suits pride themselves on being stand-alone pieces, a lot of suits benefit greatly from being spruced up with some accessories. The most common accessory for a suit is a tie, but you can also opt for cuff links, a brooch, or even a pocket square. 
The Tie Hub – Maroon and Grey woven tie
This tie, from the Tie Hub might not look particularly eye-catching. Though it is not particularly festive, it is a great staple to have in your closet, and can complement most suit colours. The best designer suits will not need a flashy tie to finish the look, and this tie is a simple, understated way to add a touch of colour to your look. 
Price: Rs. 5,000 on Myntra 
Sign up with ZestMoney to make this classy tie yours by paying just Rs. 555/ month over 9 months.
    5.  Dress shoes

Dress shoes complete the look of all the best designer suits. There is a wide variety of dress shoes that can match your suit, personality and style preferences. Gone are the days of plain black leather lace-ups. Your options are much wider and can be adjusted to suit your occasions.
ALDO Men's Black Slip-on Shoes
These black dress shoes have the convenience and ease of slip-ons or loafers. However, they also look refined and formal and are a great pair to match with most formal outfits. 
Price: Rs. 15, 999 on Myntra 
Sign up with ZestMoney and buy this elite pair of slip-ons by paying 9 easy instalments of just Rs. 1,777. 
If you want the best designer suits available online, from simple designs with a basic trouser and jacket pairing to more elaborate designs which incorporate a lining, breast pockets, and other design features at affordable rates, ZestMoney has got you covered! Visit ZestMoney, to invest in high-quality pieces, even if you have no access to other formal financing options because of your insufficient credit history. ZestMoney's unique digital platform empowers millions of Indians to make affordable purchases for high-quality products, by connecting customers with our partners, and managing credit. 
ZestMoney works with Amazon, Flipkart, Raymond, Peter England, Croma, Home Center and many more companies to bring the flexibility of EMI to all its customers. We are also open to partnering with more businesses so that all Indian consumers can access their financial flexibility.
*Disclaimer:
All prices are subject to change with market value. 
 You may also be interested in: