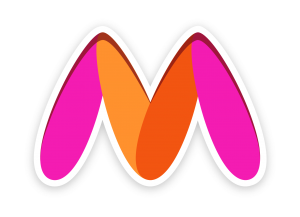 Zest Now Pay Later! Shop Fashion & beauty products on Myntra
Keeping your wishlist waiting for too long?
ZestMoney is here to help!
Seamless repayments
Once you setup NACH or SI, we'll automatically collect your EMIs
No pre-closure fee
You can close your EMI without having to pay any additional fees
How to pay with ZestMoney EMI directly on Myntra?
Signup for ZestMoney credit limit

Signing up for a ZestMoney credit limit is very simple. Just verify your mobile number and you're good to go!

Activate your credit limit

Complete your profile, submit the required KYC documents and set up your repayment to activate your credit limit.

Pay with ZestMoney EMI during checkout

Once you have finalised your booking, proceed to checkout and select ZestMoney EMI in the payment method.

Congrats, your EMI is approved

Your EMI plan will be approved and your order will be placed successfully. Myntra will ship your product to you as per their delivery policy.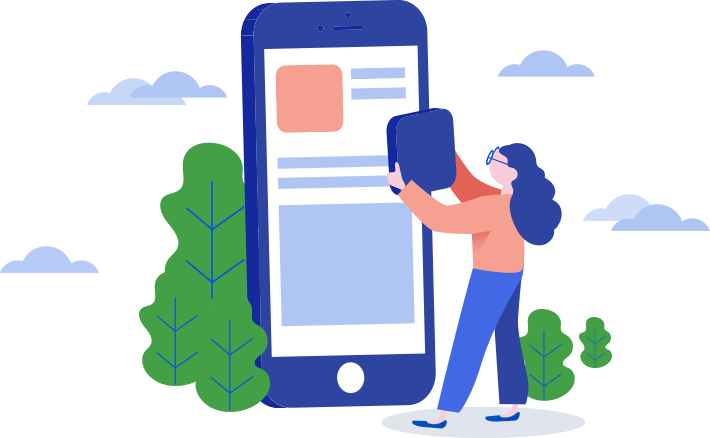 Already have an active credit limit?
Head over to Myntra, select ZestMoney EMI as your payment option, which you'll be able to find under EMI on the payment screen and complete your payment.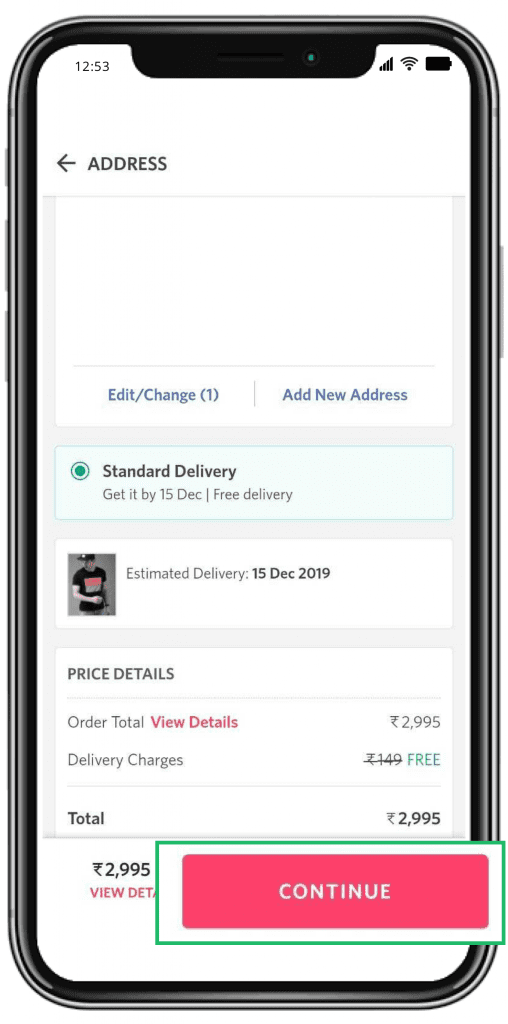 Step 1: Select the product/s you wish to purchase and click on 'Continue'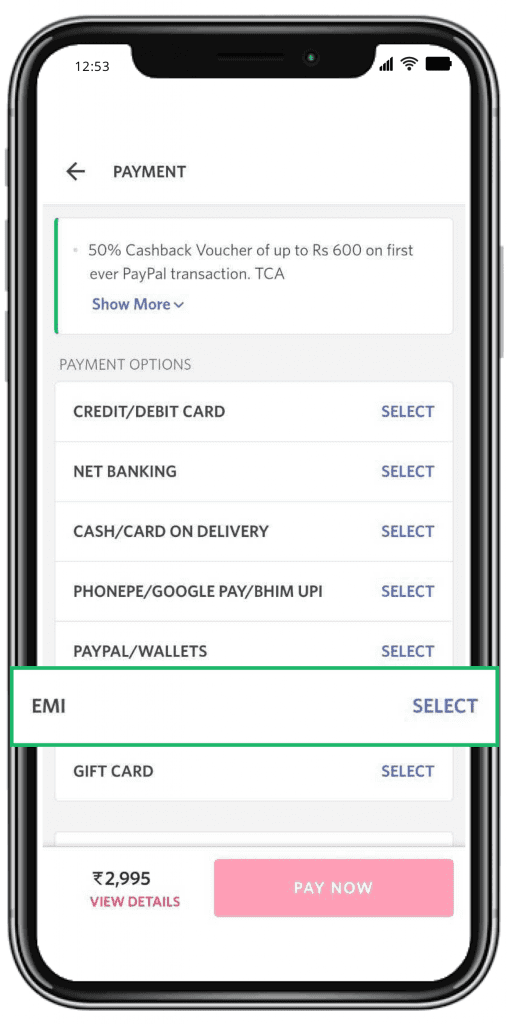 Step 2: Select 'EMI' under payment options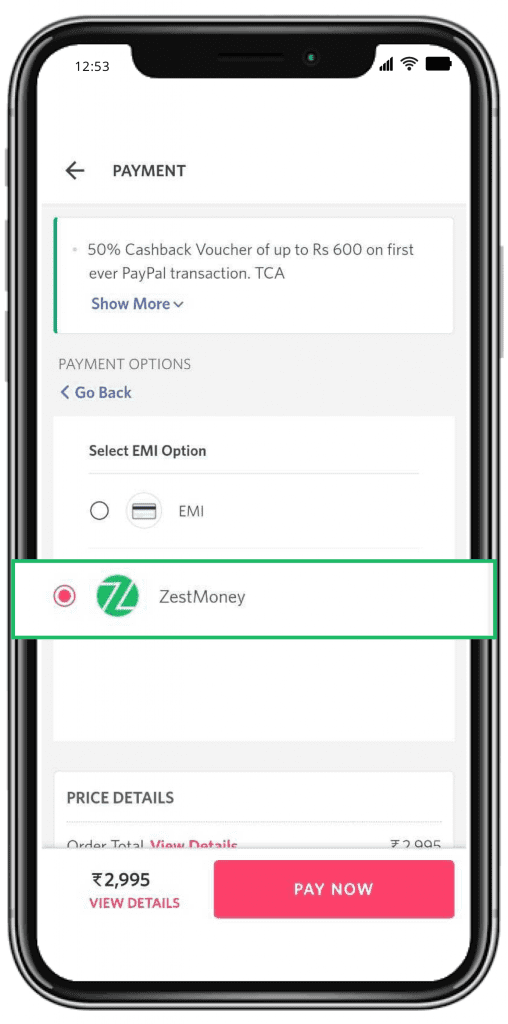 Step 3: Select the 'ZestMoney' EMI option and click on 'Pay Now'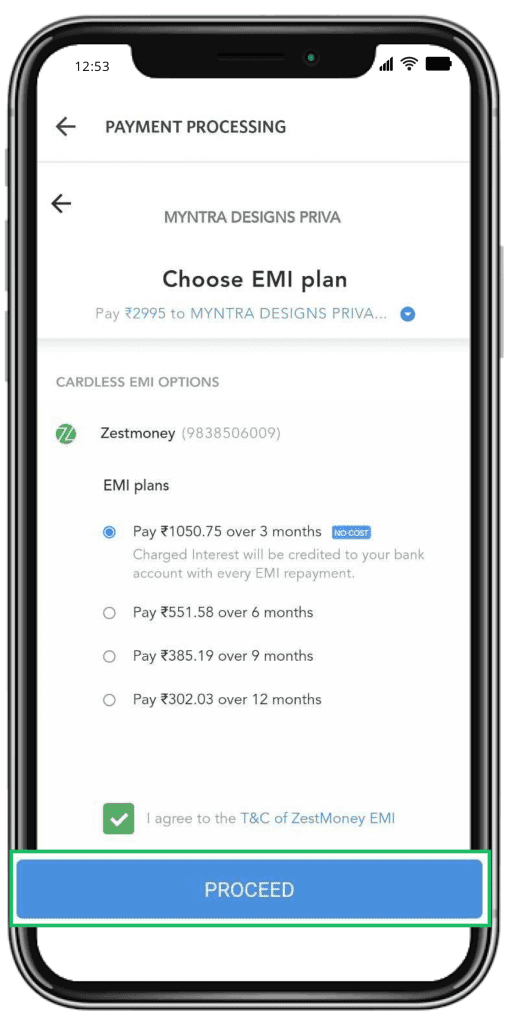 Step 4: Select the preferred EMI plan and click on 'Proceed' to complete the payment
You're the centre of our universe!
"

The loan disbursement part was a breeze. The entire process of applying and getting application approval is very straight forward and easy.

"

Amit Gupta

"

This is the best ever financing company which provide us haste free loan. Just fall in love for ZestMoney and those new shoes you just bought with a ZestMoney loan. 

"

Izaz Ahmed

"

I am really thankful to ZestMoney. They provided me with a loan, with which I bought some items i. e. from Myntra.

"

Pankaj Jha

"

Really superb. I got approval within 5 minutes. No lagging at any point in time. Great back end software for reading documents. Very helpful those who love shopping on Myntra, and online other stores.

"

Prameela Reddy

"

Applied a day ago for Myntra and got approved the next day. It was a fast and amazing experience, I would highly recommend people who want to purchase products on EMI's, ZestMoney is the best financial hub.

"

Knowledge Database
1. How can I shop with EMI on Myntra?
After creating your account on ZestMoney, fill out your KYC details, and once the documents are verified by our team, your online credit limit will be activated. To shop for apparel and accessories with EMI on Myntra, select the EMI option on Myntra as your method of payment. Select ZestMoney EMI and login with your credentials to complete your purchase.
2. What is the benefit of using ZestMoney EMI?
With ZestMoney EMI you can avail a number of benefits:
Zero down payment 

Easy EMIs
No requirement of a debit card, credit card, or credit score 

Completely online with multiple cashback offers

Shop from multiple categories including electronics, travel, and furniture with over 3000 merchant partners who accept ZestMoney.
5. What can I buy on Myntra using ZestMoney EMI?
Using ZestMoney EMI, you can splurge on top fashions trends like clothes, shoes, jewellery, bags, and more on Myntra. You get EMI option on Myntra while shopping for men, women and kids from brands across the country.
7. How much down payment do I need to pay?
When you sign up with ZestMoney EMI, there is no down payment that needs to be paid for your purchase.
8. How long does it take to get my EMI approved?
Once you complete the KYC process and your documents are verified by us, your credit limit will be approved and activated for your use. Shop with EMI on Myntra hassle-free.
9. Where can I use ZestMoney EMI apart from Myntra?
ZestMoney has partnerships with over 3000 brands spanning across various categories. You can use ZestMoney EMI to buy electronics and furniture on Amazon and Flipkart, holidays and flights on MakeMyTrip and Yatra, and more. You can also shop with our offline partners, like Croma and Lifestyle. Check out our complete list of merchant partners to find out where you can use your ZestMoney credit.
10. How do I repay ZestMoney when I avail the EMI option on Myntra?
We will set up a payment service known as NACH/eNACH/Standing Instruction with your bank that allows us to easily automate recurring payments for your EMI on Myntra. This way, your monthly EMIs will automatically be deducted from your bank on the due date. 
11. How can I know more about ZestMoney?
If you have any other questions on how to use ZestMoney EMI, visit our help page to know more. 
Enjoy the convenience of EMIs across a wide range of merchants!