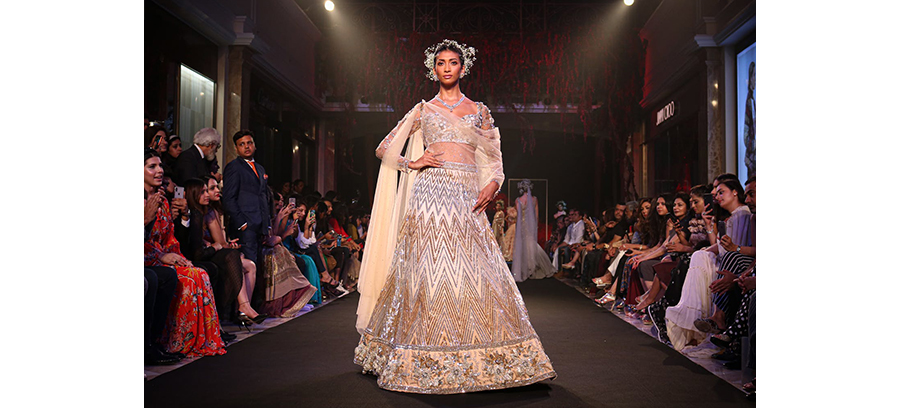 As the clock struck midnight on the 1st of January across the world this year, the world was ready to turn over a new leaf. 2020 isn't just a new year, it's the start of a whole new decade. What does 2020 have in store for fashionistas this year? The fashion trend forecast of 2020 has some wonderful opportunities for fashionistas to make a statement throughout the year. If you've been wondering how to take the runway looks to your closet, keep a lookout for these upcoming fashion trends this year
A Neutral Palette
If you've always loved neutral or nude tones, 2020 is your year. The runways were filled with shades of camel, beige, taupe and everything in between. Ranging from blazers and loose tops to khaki pants and shoes, neutral palettes have been given their rightful place in the 2020 trends. Beige and other neutral colours are versatile and varied, giving you many opportunities to try the shades of a neutral palette. 
Shop for this stunning cream and gold saree by Inddus on Myntra
Keep a lookout for neutral coloured sarees with heavy zari work in gold or silver, a treat for the eyes with their simplicity and subtlety. Tan or cream-coloured flats and ballerinas are super comfortable and can be paired with kurtis as well as Western wear. Lastly, loose neutral coloured pants are also in current fashion trends. 
Bold and Beautiful
If the neutral palette isn't to your taste, bright and bold colours of the 2020 trends might be more your signature. We are moving towards a brilliant spectrum of colours after a long era of pastels and softer hues. This means that we can play with the different colours on the full spectrum and pair them adventurously: bright pinks with bright oranges, stark sky blues and bright yellows, emerald green with bright purple, and cobalt blues with dazzling red. 
This vibrant yellow kurta by FBB combines black and dark blue for a perfectly colour blocked style statement
Your kurtas may come in these clashing and complementary colours and patterns, or you can choose to pair a solid colour with leggings in these colours too. Blouses for sarees may have embroidery and work that have bold colours as well. For your Western wear, don't be afraid to buy brightly-coloured pants as this will fit perfectly with the fashion trend forecast for 2020.
Sleeve Statements
The latest clothing trends also include melodramatic sleeves that make us nostalgic for the 80s when balloon sleeves were the rage. In 2020, let your arms do the talking by adorning them with some brilliant sleeves. The bright colour spectrum presents a wide array of blouses, jackets, and dresses with breezy sleeves that give your body and posture a strong, new look. 
Buy these velvet bell-sleeved top on Flipkart to make a dramatic entrance everywhere you go!
Saree blouses are happy taking on this bold style statement; bridal fashion is especially evolving with the 2020 fashion trends of puffy sleeves with gorgeous delicate embroidery. Though it isn't exactly fully-blown balloon sleeves of the 80s, brides are opting for a smartly stitched blouse that airs out at the shoulders without making the look too over the top. It may be only a matter of time till kurtis come with a puffed sleeve as well. Until then, look for long sleeved Western wear that also have smart pleats at the shoulders to keep your wardrobe ready for the 2020 trends and fashion. 
Frilled Fashion
This year, the fashion trend forecast of 2020 includes frilled fashion making a return to our wardrobes. Sarees have remained static in their style in the past because they are perfect as they already are, but 2020's latest clothing trend sees a frill attached to the saree's hem. These sarees are generally a single bright colour and look elegantly gorgeous. They can be paired with a blouse of ¾ sleeves that have a frill attached at the end as well. We may see some frills attached to the kurti's hemline, which will give it flow and bounce that was previously missing. 
This navy blue frilled dress by MISH on Myntra will be the perfect style statement for your next party
For Western fashion, your closet will benefit from a dress that has frills at the sleeves, or a frilly skirt as well. You can also look for a well-fitting button-down shirt that has loose sleeves that frill out at the end; a beautiful pick that will be perfect for the current fashion trends. 
Clutches 

Fashion isn't complete without an accessory and the handbag is a girl's best friend. An accessory that is a must-have in the 2020 fashion trends is pouch clutches, especially in darker earthy shades such as dark brown, maroon and dark tan. These colours work well on a neutral palette because of their subtle accent to the whole outfit, as well as with a bright spectrum of colours by grounding the whole look and pulling it together. 
This striking blue clutch by Fabindia will go perfectly with traditional sarees as well as trendy party dresses
Holding the clutch in your hand as you walked was the norm on the runway, but translating that into street wear can be cumbersome. However, clutches in your hand work best with sarees at important events like weddings. Investing in pouch clutches with a long, silver chain strap brings in bling and glam that are in sync with the recent fashion trends in 2020. 
These 2020 fashion trends promise to make this year the most fashionable yet! Planning to go on a shopping spree to make sure that your closet is up-to-date with the fashion trend forecast of 2020? With ZestMoney, you can stay fabulously fashionable even if you don't have a credit card. Sign up now and get access to your credit limit, which you can redeem on India's top fashion websites like Myntra, Flipkart, Amazon and more. 


You may also be interested in :