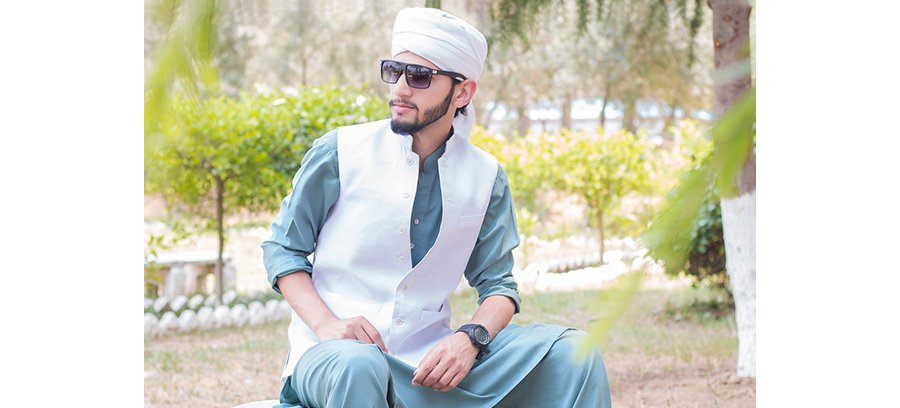 Indian weddings are known for their festivity, energy, throngs of crowd, and most importantly, the extravagance of style that is on display during ceremonies. One of the most fun parts of attending any wedding is getting ready for it and choosing your outfit. Men's fashion these days has plenty to offer to help you build a royal wedding look. If you opt for ethnic wear for men, the latest Pathani designs are definitely going to appeal to you. Pathani kurta styles are the craze of today and manage to be both unique and yet trendy. We bring to you the top Pathani kurta designs for men that will help you get ready for wedding season:
1. Pakistani Pathani Kurta Styles
Today, the Pakistani kurta pajama look is very much in vogue in the Pathani styles for men. The fine stitches and beautiful patterns stand out in this latest Pathani  style design. The Pakistani kurta pajama is the best choice for tall, broad physiques as it highlights and emphasises your features and perfectly complements your height. The Pakistani zari work and other design elements have fashioned this kurta style well, making it the style adopted by most actors and models today. Its becoming increasingly popular throughout the fashion world! The Pakistani Kurta pajama is on most wedding wishlists too.

You can find this Pakistani Pathani kurta on Amazon at Rs 1,199 (after discount).
2. Patiala Pathani Kurta Pajama for men
The Patiala pajamas are loose, comfortable trousers donned largely in Punjab. The style, however, has been growing in popularity and is now trending across the country. The Patiala Pathani style was originally popularised when the King of Patiala himself, wore this as a part of his royal tunic. Since then, it has become the look of choice for stylish men looking to turn heads at a wedding. The Patiala salwar also closely resembles the Patiala pajamas in that the pleats fall beautifully towards the bottom adding to the grandeur and elegance of this outfit. This Pathani style look is traditional yet modern, and never fails to leave a good impression. 
Get your Patiala Pajama on Flipkart at just Rs 1,495!
3. Khadi style pathani kurta styles
Today, the trend has moved from brands and big names to hand woven, hand spun fabric, and khadi takes the lead in this game. Khadi is a textile fabric that is made using a mixture of cotton, silk and wool, largely popular in cotton. It is spun using the traditional charkha and the weaving is usually done by handloom. As a result, pieces are one of a kind and not usually mass produced in the exact same way. The khadi look is popular amongst the literati circles, and presents for a sophisticated, and yet not too try-hard appearance. If you like your comfort, and would still like to stick out in a crowd, khadi is definitely your best bet. It is the best Pathani style for the cosmopolitan man today. 

You can buy this sophisticated elegant Khadi kurta on Myntra at Rs. 1,349. 
4. Latest Pathani designs for men with dhoti pajama
The latest in the ethnic wear for men's weddings is the dhoti pajama look. While this allows you to be traditional, when paired with a trendy Pathani kurta, it also manages to look stylish. This fusion wear is growing in popularity amidst the younger crowds today. The dhoti pajama is generally made of spun silk, and is worn in subtler colours like white, off-white and light gold while the kurtas are worn in contrasting, bright colours to complement the pajama look.
Check out Dhoti Pajama Sets like this at Fabindia at Rs 1,490. 
5. Half-sleeve Pathani kurta pajama style for men
Traditionally, kurtas have been known to be full sleeve as it adds to the formality and grandeur of the traditional look. However, times are changing and fashion, of course, changes hand in hand. The half sleeve look, apt for today's climate, presents a comfortable yet fashionable look in an almost don't-care-like appearance. The half sleeve kurta style can be paired with Patiala bottoms or even regular tight fit pajamas and makes you instantly shaadi-ready. The perks are that this look doesn't make you seem too traditional, and can hence be pulled off in a non-traditional and official surrounding as well. It works in both bright and subtle colours as long as it is worn well and paired with subtle pajamas. 

This light-coloured Half sleeve pathani kurtas on Amazon is available at Rs 1,395 and is perfect for a formal dinner or a business meeting. 
6. Long, knee-length pathani kurta designs for men
As you probably already know, the long Pathani kurta styles are the most loved in the market today. It is one of the most simple, yet timeless, menswear looks out there. A simple long white kurta, paired with either a popularly called "Nehru-jacket" or a casual shawl strewn over the shoulder (Shahrukh-style) instantly transforms your look. The jacket is often worn in a contrasting colour to make the style stand out. Black, white or similarly simple solid coloured kurtas are the best in this style, as the coloured knee length designs often appear a tad gaudy. If you want to stick to a classic style, this would be your preferred of the latest Pathani style and design.  
This Long Pathani kurtas at Fabindia  is universally flattering and is available at Rs 1,590 onwards.
7. White Pathani kurta pajama design
'Less is more' is truly exemplified by the white Pathani kurta pajama design. Nothing exudes more class than a simple yet exquisite white kurta. The white Pathani kurta pajama design is incredibly versatile and can be worn across a variety of occasions. You can style it with a 'Nehru Jacket' or a lovely shawl around the neck and tossed over the shoulder. White Pathani Kurta designs with simple embroidery also look extremely elegant and classy. If minimalism is your style, white Pathani kurta pajama design should be your signature! 
Check out these exquisite white Pathani style designs on Myntra, starting from Rs. 1600 onwards 
Simple Pathani styles, paired with one stand-out feature can be your rule of thumb when putting together a unique wedding look. While all of us love the festivities that the wedding season brings, many of us also dread the high expenses we have to shell out on a new outfit for each event. With ZestMoney, you can shop for the latest festive menswear collection from Myntra, Amazon and more without having to make a large expense. By signing up for ZestMoney credit, you can pay for your entire new look using no-cost EMI! This wedding season, get set to be the most stylish member of the groom's squad!
You may also be interested in :