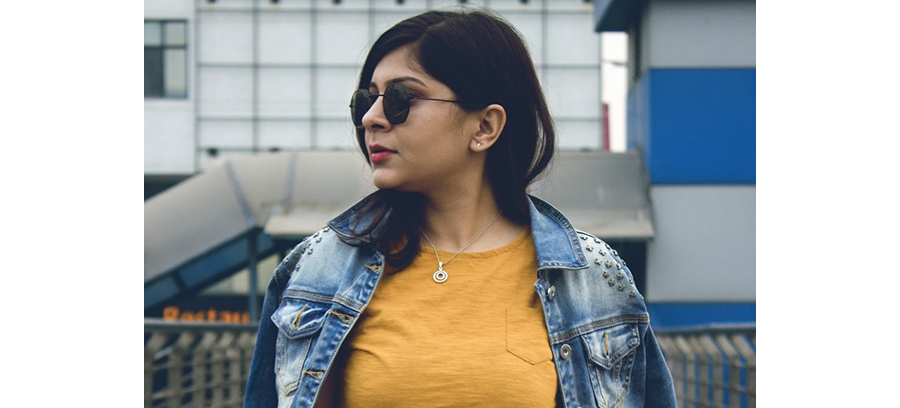 You don't need to be Marc Jacobs or Ralph Lauren to understand that denim never goes out of fashion. Denim styles have been one of the biggest fashion trends since as early as 1873 and are still as stylish as ever. While we are sure that every single one of you owns a basic pair of denim pants, we want you to know that denim doesn't have to be restricted to just skinny jeans. So without further ado, here are some of the latest denim styles for you to incorporate into your wardrobe this year!
1. Denim dress
We're officially claiming a denim midi dress as the LBD's bubbly younger sister. A denim dress can be worn and styled in a billion ways. You could wear an oversized denim shirt with a belt and knee-high boots for a girl-next-door look, or you could wear a bodycon denim midi dress for a more edgy look. You can even go vintage and bring back the very cool, 1990's denim dungaree dress or just keep it simple with a thin strap denim maxi dress. Whatever be your style, invest in a denim midi dress and break the stereotype of denim pants.
You can't go wrong with this classic denim dress by Levis available on Myntra for Rs. 3,999. While it's slightly on the expensive side, clothes are one of the lesser-known things you can buy on EMI!
2. Boyfriend jeans
Boyfriend jeans are a loose jeans style pants that are the complete opposite of the form-fitting jeans we're used to seeing. These loose jeans style pants look very stylish when teamed with a cropped top and sneakers. You could also tie a flannel shirt or a lightweight jacket around the waist for a great street style vibe or get party-ready by pairing it with strappy heels and a sleeveless lace top! Trust us, with these loose jeans, everyone will be envious of your fashionable wardrobe essentials. 
These lightly-washed boyfriend jeans by Lee Cooper available on Lifestyle for Rs. 2,299 is the perfect mix of casual and stylish.
3. High-waist jeans
The high-waisted jeans are one of those denim styles that have finally made a comeback in fashion and we could not be happier. These pants are not only stylish, but also help create an illusion of an elongated lower body making you look instantly skinnier and taller. The high-waisted jean style is also great if you love a cute crop top but don't want to show too much of your midriff. Team it up with a pair of high heels and get set to paint the town red!
This classic blue high-waisted jeans by Levis available on Amazon for Rs. 1,800 will be a wardrobe staple for years to come. 
4. Bell bottoms
A denim bell bottoms pant is a classic 70's denim style that was a complete game changer. Today, they've come back with a bang and are one of the biggest fashion trends of 2020. Bell bottoms are a type of pants that flare up below the knee forming a bell-shape. These pants are extremely bohemian, chic and a breath of fresh air as opposed to the typical skinny fit jeans that are in vogue these days. Tuck in an oversized white shirt and a statement belt along with these denim bell bottoms pants and head out to change the way everyone looks at jeans! 
These blue bell-bottom jeans by FOSH available on Myntra for Rs. 1,999 will help you bring back the 70s in style. 
5. Denim Jacket
Nothing says "cool" like a denim jacket. A faded light blue denim jacket outfit can make any boring outfit fabulous. You can wear it on your short dresses, shorts, pants, joggers, leggings, and even on your favorite lehenga for a vibrant desi fusion look. There is no wrong way to wear a light blue denim jacket outfit. And if you can't afford a leather jacket, you can always buy a black denim jacket and call it a day. One of them denim styles that is perfect for Indian winters and light enough for the summers as well. 
This denim jacket by HERE&NOW available on Flipkart for Rs. 1,924 will look perfect paired with a floral dress or a neutral top.
6. Denim Shirt
The best part about denim is that you can wear it for almost any gathering or occasion and the same goes for a stylish denim shirt. A denim shirt can be worn at any given time. It can be worn during the day for a cute brunch with friends, or to work, paired with the classic black trousers and statement jewelry. It can even be worn for a night out or go big on fashion and team it up with denim pants and a denim jacket for a denim on denim look that most models are sporting these days.
This denim shirt by XPOSE available on Lifestyle for Rs. 1,599 will be your go-to piece when you're putting together a casual chic look. 
7. Acid Wash Denims
Tired of the usual dark blue denims? Invest in a ripped, acid-washed denim pant for a change and watch how it uplifts any simple t-shirt or tank top. The acid-stained look was primarily an 80's look that has now made a comeback. These pants are partially bleached with chlorine bleach to give it a sort of unevenly faded look. While this denim style was considered tomboyish in the past, today it's one of the trendiest denim styles approved by most of the leading clothing brands.
These acid wash jeans by Roadster available on Myntra for Rs. 1,399 will make you look effortlessly stylish.We're sure you're surprised at how many more denim styles are out there for you to include in your wardrobe. So, start shopping and add these looks to your cart right away! Is your budget stopping you from looking dashing in denim? With ZestMoney, you can now buy clothes with no-cost EMI at multiple fashion brands like Myntra, Lifestyle, and Amazon! Simply sign up with your Aadhaar card and you will receive a credit limit. This credit limit can be used at any of our partner websites and you can pay it back in affordable monthly installments. Get ready to have the most stylish wardrobe in town with Zest.
You may also be interested in :