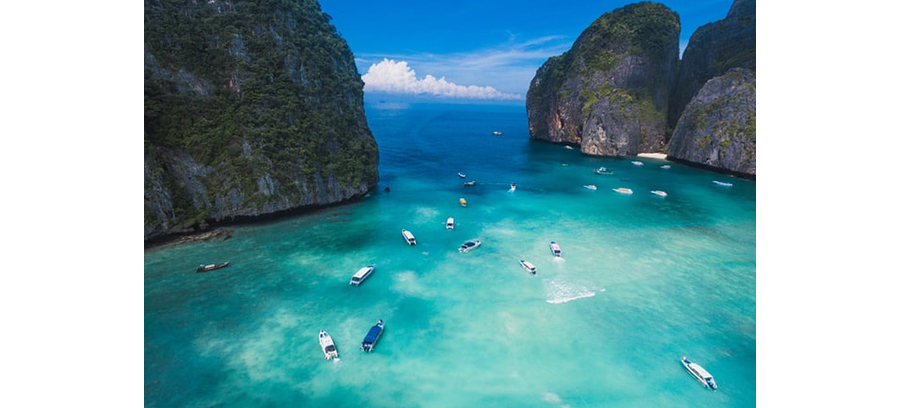 Most Indians are under the impression that enjoying a vacation abroad entails splurging on flight tickets, foreign exchange, accommodation, and visa charges, among other things. This, however, is far from the truth. Through careful planning, booking ahead, and some knowledge about the best budget trips from India, one can trot the globe without breaking the bank. There are a number of budget travel packages specially designed to suit Indians intent on taking budget trips abroad. Listed below are 13 budget travel destinations that all Indians should consider before dismissing the idea of vacationing outside the country.
1. Kazakhstan 
The Central Asian nation of Kazakhstan is closer to India than people might think it is. The distance from Srinagar to Almaty (which is Kazakhstan's largest metropolis) is only about 1000 km. Aside from the picturesque Tian Shen (Mountains of Heaven) range, one can also visit the beautiful city of Aktau (by the Caspian Sea), Nomad's Land (an abandoned film set), and the Shymbulak ski resort. It roughly costs INR 4500 a day to vacation in the country. The months of May, June, and July are the best time to visit Kazakhstan.
2. Greece
Owing to its economic woes, Greece has been one of the most popular European destinations for Indians looking to take a budget international trip. If you're eager to get the most bang for your buck, then visit the country during the months of September and October. Depending on which island you stay in, you might incur anywhere from INR 6500 to INR 15,000 per day. Also, try booking your flights ahead to find affordable flight tickets. 
3. Lebanon
If you are looking to sample phenomenal Middle Eastern street food, pay a visit to the two-thousand-year-old city of Baalbek and decipher the cuneiform tablets (that according to numerous archaeologists contain answers to the origins of human life), then you can do so on a five-day trip to Lebanon, for just about INR 45,000. 
4. Sri Lanka 
For those longing to take a budget international trip, few destinations can compete with Sri Lanka. There are numerous backpacking adventures to be had as well as water sports, wildlife safaris, pristine beaches, and delectable Sri Lankan delicacies to be enjoyed.. With flight tickets costing not more than INR 10,000, budget accommodation between INR 700 and INR 1000 per day, and meals as less as INR 100, Sri Lanka is an irresistible holiday destination. It's also one of the safest places to plan a solo trip for women. 
5. Indonesia
The Indonesian archipelago is ideal for those looking to honeymoon or enjoy a tropical island vacation. While Jakarta and Bali are the most popular tourist destinations, lesser-known places such as Gili Trawangan and Lombok offer all the same attractions at much cheaper prices. One can backpack through Indonesia for two weeks, spending just about INR 30,000. 
6. Malaysia
Malaysia is one of the most popular budget travel destinations for tourists from India, for a reason. One can relish the pleasant weather, breathtaking parks and scenic views of Malaysia, spending between INR 3500 – INR 5000 per day. Availing a transportation pass can help you travel within the country at reduced rates. That's not all! Indians are also eligible for a free 90-day tourist visa.  
7. Maldives
As the Maldives begins attracting more foreign tourists from the West, the country is rapidly turning into a luxury holiday destination. If you would like to vacation in the Maldives at budget prices, then now is the right time to do so. A ten-day trip to the Maldives shouldn't cost more than INR 35,000, provided you book accommodation and flights early. If you're trying to decide on the best honeymoon spots, then this country should definitely be on your list 
8. Bhutan
Aside from its many charming monasteries and pretty Himalayan landscapes, Bhutan is known for its pristine atmosphere. Bhutan is said to be the only carbon negative country in the world.Visa costs for Indians are nill, while accommodation (perfectly suited for budget travel in 2020) costs between INR 1500 and INR 3000 per night. Meals are also pretty inexpensive, ranging from INR 200 to INR 500, depending on the establishment. 
9. Croatia 

Sought after by 'Game Of Thrones' fans from all across the globe, you will be surprised to find that Croatia is one among the very few budget travel destinations for Indians keen on visiting Europe. Numerous airlines flying to the country offer discounts on ticket prices all through the year, and although the average cost for a week's trip is INR 65,000, you can get your buddies to join in on the adventure to avail cheaper rates. 
10. Myanmar
Myanmar is slowly emerging as a popular tourist destination for Indians. Tourists can take in the sights of the country's many ancient Buddhist monasteries and temples, including, the Taung Kalat monastery, which is set on top of an extinct volcano; the Shwedagon, a 2500-year old pagoda featuring diamond and gold-coated exteriors; and Bagan, the capital of the erstwhile Burmese empire, which is unlike any other place in the world. One can enjoy a five-day budget international trip around the country for as little as INR 35,000. 
11. Egypt
Explore the ruins of ancient Egypt, cruise down the Nile (while enjoying a typical Egyptian meal), go on a desert safari and ride on a camel's back, at budget prices. With flight tickets to the country available for INR 13,000 and accommodation (ideal for budget travel 2020) costing as little as INR 500 per night, Indians can go on an Egyptian holiday for a week, not having to spend more than INR 40,000. 
12. Cambodia
Visit the "Land of Gods", experience the rich cultural heritage, explore the ancient Angkor Vat temple, and more, by shelling out just INR 45,000 for a week's stay in the country. The best time to visit Cambodia is between December and April. 
13. Vietnam
Apart from visas for Indian tourists being cheap and easy-to-acquire, flight tickets and accommodation can also be booked at budget prices (provided they are done well in advance). One can do everything from sampling diverse Vietnamese delicacies at a food market, shopping, going on a wildlife safari or an island tour, as well as meditating and seeking tranquility at the country's numerous monasteries, temples, without burning a hole in their wallet. 
There are many companies like Pickyourtrail which offer unparalleled budget travel packages to Indians who are keen on taking budget trips abroad without having to miss out on any of the splendors or tourist attractions of the country they are holidaying in. To make your holiday even more affordable, you can pay for your holiday booking through affordable monthly installments. With ZestMoney no-cost EMI, you can use your credit limit on a number of travel portals like Makemytrip, Yatra and Pickyourtrail. Sign up now and get started!
You may also be interested in :