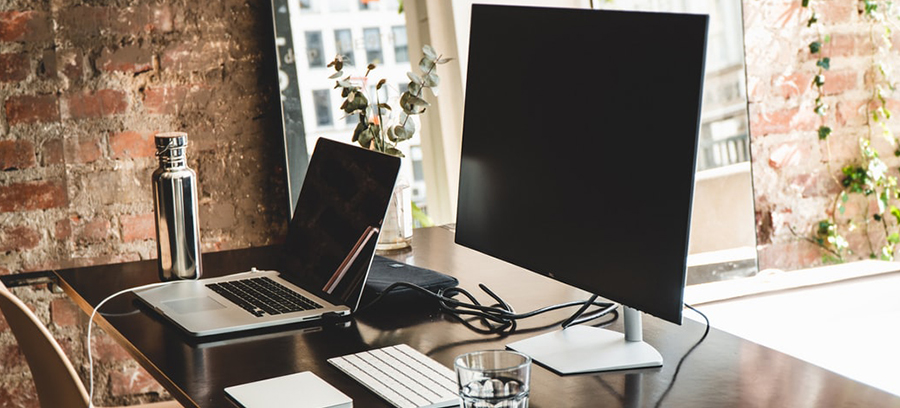 With COVID cases rising in India, it has become very risky to step out of the house; even for work. Companies everywhere are urging their employees to work from home (WFH). Without proper home office set-ups, it becomes very difficult to focus and finish the giant list of tasks for the day. Efficient home office set-ups have become integral for all professionals as the house can be brimming with distractions. Creating your own home workspace can largely improve your productivity. In this exhaustive guide by Zest Money, you'll learn about all the essentials required for a WFH set-up.  
Essentials for home office set-ups:
   1.  Laptop
An efficient and fast laptop is of the highest importance when it comes to choosing work from home essentials. Laptops these days are very advanced and feasible at the same time. An efficient laptop must have the following specifications:
Ample storage for all your office documents and files 

High resolution for a sharp and visible screen 

Must be light-weight and comfortable 

Long-lasting battery life for uninterrupted usage

A well-functioning camera for video calls 

USB ports and HDMI jacks for presentations and file transfer

The ASUS Vivobook Laptop, for instance, comes at an affordable price point and is a fantastic all round laptop that provides all the features you would need for maximum productivity while working from home.  2GB RAM coupled with 500GB internal storage ensures speed and ample space for all your work documents. Moreover, its 10 hour battery life ensures you won't miss a single meeting even if the power had to go off at home. Here are more reasons why it deserves a spot in your wishlist:

Asus VivoBook Laptop Specifications:

Processor

Intel Celeron Dual Core N3350 processor

Storage

2 GB RAM and 500GB of HDD storage

Display

HD LED display + 11.6-inch

Battery 

10 hours of battery life + 2 cell Li-Po battery

Rating

4.2/ 5 
Price: Rs.17,990* on Flipkart
No-Cost EMI: Rs. 2269/month* for 9 months
Additionally, some of the best laptops under 20000 and 30000 sport higher end processors, larger storage and RAM capacities. But if you're worried about the price point, ZestMoney has got you covered with their 0 interest EMI option. Make the best work from home laptop easily affordable to you with ZestMoney today!
    2.   High-speed internet
All home office set-ups require fast internet connections. With many phone carriers offering affordable Wi-fi connections, investing in a good WiFi router that offers a good speed and large range can help with a seamless work experience. Due to COVID-19, client and office meetings have all become virtual, therefore high-speed internet connectivity can help provide quick access to files and data online, and ensure uninterrupted virtual meetings, speeding up your overall productivity. 
The TP-Link Archer AX10 Wi-Fi router is one of the best wifi routers under 5000 in the market today. Featuring a triple-core CPU and speeds of up to 1500Mbps, the TP-Link Archer is ideal for small 2 or 3bhk houses.  
TP-Link Archer AX10 WiFi Router Specifications:

Speed

1500 Mbps 

Frequency

Frequency: 2.4 GHz, 5 GHz

Type

Wi-Fi Router without modem + External antenna 

CPU

1.5 GHz Triple-core CPU

Rating

4.3 /5 
Price: Rs. 4,999 on Flipkart
    3.  A Sturdy desk:
A sturdy desk is one of the most important items in a home workstation. A sturdy home office desk serves well for organizing your electronics, files, books and other items. Research has shown that, often, when home office desks are disorganized, it can decrease the person's ability to focus. A clutter-free workspace helps in freeing the mind to focus on more priority tasks for the day. Work desks ideally need to be  sturdy, durable and have ample storage space to accommodate electronics like a laptop, monitor, mouse and even notebooks where you can comfortably write without the desk moving or squeaking around. If space is what you require, you can also invest in smaller desks with shelves to compartmentalize your items. Additionally, look for desks with smooth and dark finishes. Desks with lighter shades are difficult to maintain, especially, in case of accidental spills or scratches. Explore brands like Royal Oak, Amazon, Home Centre etc that have plenty of options for work from home furniture, wherein you can purchase with ZestMoney 0 interest EMI as well! 
The Nixon Fumed Oak Convertible computer desk is a sought-after desk for working professionals. It is sturdy, compact and user-friendly, and yet comes with ample storage space for whenever you require it. Great for those who have a small office room in their homes that they prefer not to overcrowd. 
Nixon Fumed Oak Convertible Computer Desk Features:
2 Easy to open horizontal shelves 

Melamine-faced chipboard with fumed oak finish 

Can convert the table into a display/storage unit 

5 open shelves 
Price: Rs.11,797 on Homecentre
No cost EMI: Rs.1488/month* for 9 Months
     4.  A Comfortable Chair:
Today, most jobs involve long durations of sitting in front of a monitor. Such jobs lead to a sedentary lifestyle, which can cause aches and pains in your back. Sitting on the bed, or a seat that is cosy with cushions may not be the best option as it does not allow for an ideal spinal posture. Having an uncomfortable chair in home office set-ups can increase the number of breaks you take due to regular bouts of bodily pain. In the long run, it can affect both your posture and performance. Therefore, investing in good work from home furniture like ergonomic chairs can ensure utmost comfortability while protecting your back muscles and posture in the long term. Chairs with lumbar support and adjustable heights are the perfect addition to home office set-ups. They provide support for your back to be upright without causing any pain. You can purchase WFH furniture from popular brands like Home Centre, Urban Ladder, Royal Oak, Wooden Street and more such sites using Zest Money. If you're worried about the budget, create a fantastic WFH set-up through Zest Money EMI that makes furniture, electronics and other products instantly affordable to you with 0 interest EMI.  
One example of a fantastic ergonomic chair for WFH is the Helios Ergo High Back Office Chair. And here are a few reasons why it needs to run to your cart: 
Helios Ergo High Back Office Chair Features:
Revolving chair with an upright position and tilt tension adjustment 

Adjust the seat height up to 100mm 

5-star Nylon base with sturdy prongs for balance 

Support for the head with polyurethane foam 

Armrest with PU pad
Price: Rs. 9450 on Homecentre
No cost EMI: Rs.1192/month* for 9 months
   5.  Bluetooth Earphones/Headphones:
Bluetooth headphones make a great addition to any home office set-up. Nowadays some of the best Bluetooth headphones under 2000 come in stylish designs and sport fantastic audio and microphone quality. Moreover, Bluetooth earphones enable you to move freely in the house without having to worry about excessive cable management like unplugging/tugging earphones from your laptop each time. Take work calls with ease and listen to music to boost productivity as well. In any WFH setup, a good audio device is of utmost importance because of the increase in online meetings. Many Bluetooth headphones also come with external noise eliminators built in their microphones to eliminate excess noise or disturbances in the background. Bluetooth headphones have become smart and futuristic audio devices where without shelling out a lot of money, you can still enjoy the experience of good sound at home.
For instance, here is why the Sony WH-CH710N wireless Bluetooth headphones are a worthy WFH investment. 

Sony WH-CH710N wireless Bluetooth Headphones Specifications

:
35 hours battery life upon a single charge 

Noise-cancelling headphones

Comfortable ear-pads with in-built mic 

Voice assistant with google 

Even when the battery runs out, you can use it with an AUX cable 
Price: Rs. 8,990 on Amazon 
No-cost EMI: Rs. 1134/month* for 9 months
You can find several options for your WFH setup on Flipkart, Croma, BoAT, and more. Simply buy the pair that you like the most using Zest Money with 0 interest and 0 downpayments!
   6.  Desk lamps:
There are days where the deadline might be very tight and you might need to work overtime to meet it. Or perhaps you work night shifts, or maybe you're a night owl freelancer. Desk lamps are ideal for these situations as they allow you to work at night without disturbing any other members in your home. While they consume less power than tube lights, desk lamps in your WFH set-up also allow you to shed light on just a particular area, for example, a notebook or the keyboard minimizing eye strain from brighter tube lights. Desk lamps just like electronics nowadays have become very intuitive and come with voice recognition and smartphone compatibility that allows every user to customize their lighting according to their preference.  
The Mi Smart LED lamp is a smart desk lamp that makes an exquisite addition to your home office set-up. Apart from its minimalistic design, it features smartphone compatibility and voice control enabling you to customise the brightness and colour temperature in just a few clicks. Here are some more features of the Mi Smart LED lamp that make it one of the best WFH essentials. 
Mi Smart LED Lamp Features:
Mobile App control

Adjustable Color Temperature

Easy knob control

Foldable Design

Voice Control: Works with Amazon Alexa and Google Assistant

Adjustable Brightness
Price: Rs.2,499 on Amazon
ZestMoney makes some of the best WFH gadgets even more affordable for you through 0 interest EMI! Purchase your favourite desk lamp from brands like HomeCenter, Amazon, Flipkart, Croma with Zest EMI today! 
   7.  Stationary:
While it is the era of digitalisation, the satisfaction of taking notes during meetings with a pen and paper is still prevalent. According to studies, notetaking has been known to stimulate better recall. Adding simple stationery to your WFH setup such as a diary, a notepad, pens, stapler, paper clips etc can help you easily organize your files especially when you need to refer to them in the future. They also come in handy during meetings or brainstorming sessions. When you are taking a break, try not to resort to social media or TV again, rather explore an activity where your retention capacity  will not be affected. For example, journaling, doodling or painting are great break-time activities that help relax your mind, yet keep your brain active and productive. ZestMoney has partnered with many stationery brands like Crossword and William Penn and even Amazon and Flipkart where you can buy your stationery in bulk on 0 interest EMI and 0 downpayments!
   8.  Water bottles:
Staying hydrated especially when spending hours in front of a computer working is key to optimum health. Therefore, home office set-ups are incomplete without water bottles. Our tendency to get so engrossed in work especially when we are working from home is high. So much that we even forget to eat on time and keep ourselves hydrated. A water bottle may seem like an item that can be given low priority, but keeping a water bottle on your home workstation can do you wonders. Firstly, keeping the body hydrated can reduce fatigue caused by multitasking and looking at screens for long hours on end. They also save the time that you spend on water breaks. And why not spruce up your drinks? Instead of just water, try adding a few slices of orange, lime, cucumber mint, strawberries or blueberries etc to keep you energized throughout the day. Buy edgy and durable water bottles on Decathlon, Home Centre, Myntra etc. 
    9.  Other work from home essentials:
Include essentials that can create an aesthetically pleasing environment for you to work in. For example, Rubik's cube, few scented candles, posters, books and photo frames are all good additions to home office set-ups. Many professionals have noticed that having few table-top plants can lighten up spirits and inculcate discipline into one's lifestyle. Your home office desk is your space, it is a free canvas for you to express yourself. So go ahead and create an ambience you think you'll be most productive in. Myntra, Home Centre, Flipkart and Amazon have some great work desk accessories that you can purchase using Zest Money! So what are you waiting for? 
Zest Money allows you to purchase your favourite electronics and WFH furniture without burning a hole in your pocket. You can sign up with zest and buy laptops and Samsung, RedMi, Refurbished iPhones from top brands without a credit card using EMI. Sign up with ZestMoney and follow these simple steps to unlock your credit limit:
Complete your profile on the ZestMoney website and find out your eligible credit limit

Activate your credit limit by filling out your KYC details & setup automatic repayments to start using your credit across 1000+  of our merchant partners

Pay with ZestMoney EMI by visiting our merchant partner and paying using your available ZestMoney credit limit

Then choose your no-cost EMI options across our retail partners and pay for your purchase in instalments. A debit card or a bank transfer can be used to repay your dues.

Start shopping with ZestMoney and experience the benefits of shopping on 0 interest EMI today!