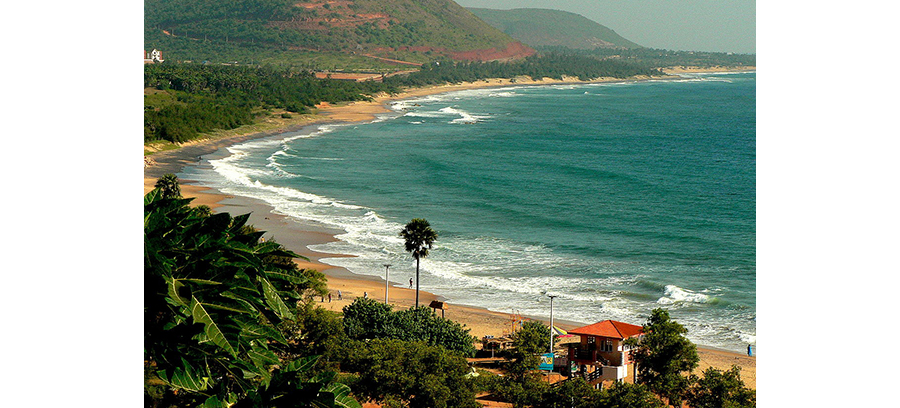 Goa is what makes us think of a fun vacation. Whether you want to beat the heat and hit the beach or check out some of the most beautiful landscapes of the country, pack your bags and have a look at the best places to visit in Goa. You can also avail of EMI tour packages at 0 interest and no downpayments for the various unique places to visit in Goa with ZestMoney.  
 https://zestmoney.in/shop-smartly/best-places-to-visit-in-goa-2022/
1. Varca Beach, Goa
Located in the South of Goa, Varca Beach is only a ten-minute drive from the town of Benaulim. The beach is close to two kilometers long and is characterized by its clean white sand, as well as black and red lava rocks. Since this beach is so safe, it is also one of the best solo trips for women. Although the beach is completely hawker-free, there are numerous shacks that serve up delicious Goan fare. Varca Beach (consistently ranked amongst the most beautiful beaches in India) is perfect for tourists looking to take a swim, stretch out in the sun, and get a tan going, without having to put up with the tourist masses that throng other popular Goan beaches. 
Book a stay at Zuri White Sands Resorts and Casinos on Makemytrip to make your vacation to Varca a trip to remember. 
2. Agatti Beach, Lakshadweep
Despite the fact that tourists require special permission to visit Lakshadweep, going through the red tape becomes worth it as soon as one lays their eyes on Agatti Beach. With its turquoise blue colored waters and gentle waves, Agatti Beach is the quintessential snorkeler's delight. Other water sports prevalent at Agatti Beach include parasailing, surfing, and scuba diving. It is widely recognized as the cleanest beach in India. Tourists also rank it as one of the most beautiful beaches in India year after year.

Book your stay at Seashells Beach Resort on Makemytrip, for the perfect base from where you can explore the beautiful beaches of Lakshadweep.
3. Murud Beach, Mumbai
Murud beach which is roughly a hundred kilometers from Mumbai is located in the town of Dapoli. Apart from the stunning palm tree lined landscapes, there are diverse watersports adventures to be had at Murud Beach. One can also head into town to sample the variety of scrumptious, Maharashtrian seafood dishes. On occasion, visitors to Murud Beach are also treated to encounters with friendly dolphin pods. It was a very popular destination for Britishers during the heyday of the British Raj, who recognized it as one of the most beautiful beaches in India.  
Book your stay at Golden Swan Beach Resort on Yatra for a comfortable stay that your whole travel squad will love. 
4. Paradise Beach, Pondicherry
Paradise Beach (one of the most famous beaches in India), or Plage Paradiso as it was named by the French, is located in Chunnambar, which is only a short distance from Pondicherry. This beach is known for its pristine water and sand which gleams bright golden during the summers. There are ferry rides that take tourists to the beach from the boathouse and through the backwaters. These ferry rides which last around thirty minutes are highly sought after by bird watchers and photographs from all over the world. This is owing to the fact that the thick mangroves that the backwaters wind through are home to many of the rarest species of birds on the planet.
Book your stay at the gorgeous Le Pondy Beach Resort on Makemytrip for a luxurious holiday getaway. 
5. Radhanagar Beach, Andaman and Nicobar Islands
Radhanagar Beach, also referred to as Beach No. 7 by the locals, is located on the West coast of Havelock Island. Despite this crescent-shaped beach's reputation as a popular tourist spot, it hardly ever gets crowded because it spans over two-kilometers. There are beach beds and showers spread across the beach, making it one of the most famous beaches in India for tourists looking for a great tan while enjoying the solitude and stunning sights. Elephants are also known to make appearances at the beach, from time to time. Hotels in Andamans tend to be on the pricey side, but with ZestMoney, hotel bookings are now one of the lesser-known things you can buy on EMI!
Book your stay at Symphony Samudra on Yatra. Located in the heart of the capital city, Port Blair, this hotel is the perfect spot from where you can explore the beaches and city life alike.
6. Varkala Beach, Kerala
Varkala Beach also known as Papanasam Beach by the locals, is roughly ten kilometers away from the quaint little town of Varkala, on the outskirts of the district of Thiruvananthapuram. The waters of the beach, as well as the natural springs nearby, are said to have not only medicinal and therapeutic but also soul purifying properties. Locals believe that taking a dip in these waters facilitates the washing away of their sins. Along with the numerous Ayurvedic spas, remarkably affordable beach resorts and restaurants, the picturesque, red laterite cliffs make Varkala Beach an excellent spot for tourists keen on meditating in peace and practicing their yoga.
Book your stay at The Gateway, Varkala on Makemytrip. This luxurious resort in Varkala is one of the best stays this beach destination has to offer. 
7. Kashid Beach, Maharashtra
Apart from the bevy of watersport adventures and delectable seafood dishes to indulge in, tourists to Kashid Beach can also pay a visit to the Janjira Fort (located around twenty kilometers from the beach) which was built sometime during the 15th century AD, the Revdanda Beach Fort (fourteen kilometers from Kashid Beach) which was built by Portuguese settlers in the 18th century, and the Phansad Wildlife Sanctuary (ten kilometers from Kashid Beach) where one can catch glimpses of numerous rare species of reptiles, birds, insects, and plants in their natural habitat. With waves that reach up to six feet, this beach is also one of the most popular and most beautiful beaches in India for surfers from across the globe.
Book your stay at Nargis Farm resort on Yatra. This is a wonderful stay for both families and friends.
8. Malpe Beach, Karnataka 
Only a fifteen-minute drive from the town of Udupi, Malpe Beach is vastly unknown (except by locals) and quite secluded. Back in the day, Malpe used to be one of Karnataka's biggest and most prosperous ports. Tourist attractions include banana, and speed boat rides; jet skiing, parasailing, surfing and speed boat cruises to St. Mary's Island, which is one of the four rocky islands close to Malpe beach. Going on a speed boat cruise to St. Mary's Island, also known as Coconut Island because of the prominence of Coconut trees, is an absolute must for tourists wishing to go on a trekking adventure as well as white river rafting. It is also one of the very few beach destinations in India to offer free 24×7 Wifi access. 
Whether you're keen on visiting the cleanest beach in India or the beach with the most attractions and water sports adventures on offer, you're sure to find one or more of the most beautiful beaches in India best suited to your liking from this list. Is your budget the only thing stopping you from booking your beach holiday? With ZestMoney, you no longer have to worry about this! Sign up now for ZestMoney to get your credit limit. You can use this credit limit on our travel partners such as Makemytrip, Yatra and Pickyourtrail.