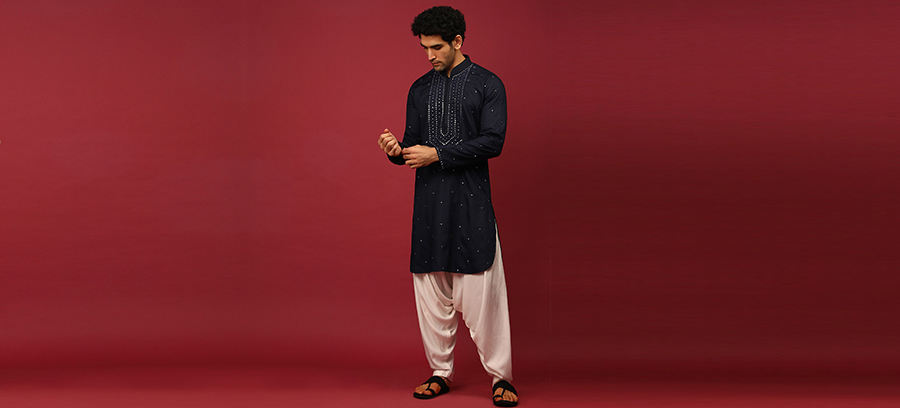 The yearly wedding bells are on! And the season yet again is thankfully allowing us to step out and enjoy with our friends and family some young and blessed unions. So, ladies and gentlemen, let's get started with choosing elegant pathani salwar suits and pathani suits for wedding.
The wedding gathering is not just about the delicacies, of course. Memories are what we leave behind at every point in our lives. Meeting old friends or relatives, catching up on their stories, and reviving some old bonds anew! Why not make these an agenda this wedding season? So, let's keep that in mind and get ready with some of the best Afghani pathani suit and head out.
5 Best Pathani Suits for Wedding: Top Pathani Kurta Pajama for Men
We are the most confident when we feel good about ourselves. And we feel good about ourselves when we look good. Especially when the others around are dressed and all dolled up at a wedding! And it's really helpful when you get to choose from the best choices of Afghani pathani suit in one place only!
So, here we present the best and the most elegant pathani suit for wedding for men that are elegant enough to keep you in the spotlight as well.
1. Go Bold with Beige: Kisah Beige Silk Sherwani with Dhoti Pants
This silk sherwani is a kurta pajama pathani suit that gives an elegant and sober look. It's an amazing suit to show off your style and at the same time very much addresses your comfort as well. The material is a cotton blend and sits perfectly on your skin. It's similar to a white pathani suit but better thanks to the colour combination! It happens to be some of the best craftsmanship in both details in design and the comfort that comes with it.
Moreover, it's full-sleeved with a mandarin neck cut best for festive occasions like weddings. Its regular fit makes it super easy to slip on and go about the festive gathering this season! So, if you are looking for a white pathani suit, this might just be it!
Price: Rs. 5,500 on Nykaa 
Sign up with ZestMoneyand get this beige set at just Rs. 611 per month over 9 months! That too at no-cost EMI!
2. Let Teal do the Talking: Kisah Plus White Printed Kurta jacket Set
The look of this teal Afghani pathani suit is sure to give you the spotlight at the wedding gathering. Its elegant essence soothes the eyes also while keeping the look premium thanks to its detailed silver design on the jacket. This is yet another choice for your hunt for a white pathani suit and the soothing colours around make it much better than the regular whites. It's sure to make your entire look pop but with elegance!
However, this pathani suit for wedding is full-sleeved with a mandarin neck and its printed pattern makes it stand out. The material is made of cotton and is of regular fit. Take care of this piece with machine wash only and keep away from direct sunlight. Top it off with neutral Kolhapuri chappals and you're ready to go!
Price: Rs. 5,250 on Nykaa 
Sign Up with Zest today and make this yours. Also, forget about EMI interests! Get this pick at Rs. 583/month over 9 months at a 0% EMI interest with Zest today!
3. Get Set Green: Bohame Cowl Kurta with Pajama
If you like to maintain things casually, this Punjabi pathani kurta pajama can understand you better. It's 100% cotton and therefore contributes to the casual look. The design is something different from the mainstream ones and hence is a great choice for someone who likes things simple-yet-stylish. This pathani suit for wedding makes for a minimalistic look at the wedding hence making you stand out from the crowd.
Talking about the fit and other mechanics, it has a round neck and slips on comfortably. Also, it's of quartered sleeves adding to the casual side of the look. It's a solid and plain set that sets its entire minimalistic approach. This pathani kurta pajama for men is one of the most different looks for the festive season and is worn by the bold ones!
Price: Rs. 10,500 on Nykaa
Sign Up with ZestMoney now and take this soothing green set at Rs. 1,166/month over 9 months at 0% EMI interest!
4. What's in Prints: Manyavar Cream Blended Silk Kurta Jacket Churidar
Your search for a white pathani suit ends here with Manyavar's cream blended silk kurta pajama pathani suit. Its ultimate elegance in white can steal the thunder on the d-day! The flower prints break the monotony of white thereby making way for a soothing wedding-day appearance. You can also slip it on for wedding reception or at any daytime look as well. It serves well for both times of the day thanks to its versatility!
Also, punjabi pathani kurta pajama is of blended fabric material with full sleeves and mandarin neck. Its regular fit makes it easy to sit on anyone and is also best for attending casual daytime wedding rituals. It's a great choice as an elegant pathani suit for wedding that can wrap up the entire look. So, grab it and look confident on the d-day!
Price: Rs. 6,999 on Nykaa
Want this set to steal the show? Sign Up with ZestMoney today and pay later in parts! Get this unique piece at Rs. 777/month over 9 months with no-cost EMI!
5. Vastraymay Maroon Silk Blend
Talking about wedding season and dress-ups, where did all the reds go? Here it is. This marron shade pathani salwar is set to make you look bold and confident. After all, wedding aesthetics and reds go hand in hand! You can pair this with mild golden Kolhapuri shoes to complete this look.
Let's discuss the wear fundamentals. This kurta pajama pathani suit makes your look pop but in an elegant manner. Set the tone for a royal wedding with this pair and let its colour maroon do the talking. It's free from any patterns letting the colour rule in a subtle way. The material of this pathani kurta pajama for men is of blended fabric. It is full-sleeved and has a mandarin neck and is perfect for the festive season!
Price: Rs. 8,998 on Nykaa
Love the design? Sign up with ZestMoney now and get this piece at Rs. 999/month over 9 months with 0% EMI interest now!
| | | |
| --- | --- | --- |
| Most stylish Pathani Suit for Wedding | Price* | 0 interest EMI* (9 months) |
| Kisha beige silk sherwani with dhoti pants | Rs. 5,500 | Rs. 611 |
| Kisah Plus white printed kurta jacket set | Rs. 5,250 | Rs. 583 |
| Bohame Cowl kurta with pajama | Rs. 10,500  | Rs. 1,166 |
| Manyavar Cream blended silk kurta jacket churidar | Rs. 6,999 | Rs. 777 |
| Vastraymay maroon silk blend afghani suit | Rs. 8,998 | Rs. 999 |
Have Second Thoughts about Choosing from these Pathani Suit for Wedding?
It's the wedding season and everyone deserves to celebrate with elegance! You must make the most of the festive season your way. From Punjabi pathani kurta pajama suits to afghani pathani salwars, choose and buy any elegant look now and pay later. It's that simple! Just sign up with Zest now and enjoy a 0% EMI interest scheme and take home your favourite ethnic pathani look now! That's not all, you can also look into your favourite brands in Amazon, Myntra, Big Bazaar, Fabindia and more! Just visit Visit ZestMoney now and start off with your festive season!
*Please Note: The prices mentioned here are indicative and may change based on offers and promotions by individual sellers. Kindly check the final price on the seller page before purchase.
You may also be interested in: